Jeff Varasano at Pizza Expo, Extreme Pizza Secrets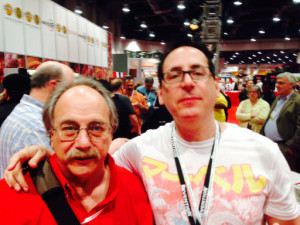 Albert Grande and Jeff Varasano at Pizza Expo
Jeff Varasano, is a master pizza maker as well as a Legendary Pizzaiolo.
His exploits have been reported in a variety of print media, broadcast media and of course the Internet.
As a matter of fact you can read about his exploits in the New York Times article, here: A New York Expatriate's Magnificent Obsession: Pizza
As stated in the article, Jeff was on a quest to recreate pizza in his home oven as good as he had at Pizzerias in New York. He devised a trick to be able to manipulate his oven to get to extreme temperatures. He had a realization on how to accomplish this. As was reported in the Times:
"That epiphany," … "allowed Mr. Varasano to finally produce a pizza as good as he would get in New York. He took a photo of that pie and posted an account, with mad-scientist specificity, of his six years of experiments with flours, mixing techniques, yeast cultures, canned tomatoes, cheeses and oven temperatures.
I was able to sit down with Jeff at Pizza Expo in Las Vegas and asked him to explain how he got started with creating pizza and his new direction in pizza.
Jeff was elaborated on his process and gives lots of great tips on how to create spectacular pizza. Of note is the fact that Jeff has now opened an extremely successful pizzeria in the Atlanta area named aptly: Varasano's Pizzeria.
He was able to take the idea of pizza and perfect it for his own tastes. He researched first hand some of the best pizzerias in the country. He was able to discover the common elements which …read more
Source:: Legends of Pizza