In Search of the Pizza Dream Part 2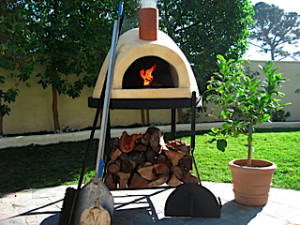 This is Anthony Saporito, pizza story of how he went from dreaming about opening his own pizzeria to actually doing it. Anthony has opened his new pizza restaurant called, Urban Fire located in Madison, New Jersey. We will be serving authentic Neapolitan pizza and Italian Street eats, Such as Porchetta sandwiches, zeppoles, Arancini, salads and more.
Albert: What kind of research did you do? Where did you go for your information? Did you get any help?
Anthony: As I was leaving the Stock Exchange the day I got laid off, I had a smile on, ear to ear. Instead of, "Oh God what do I do now!" My only thought was what Wood fired oven I was going to buy. I took a chunk of my Severance package my company gave me, and bought a Forno Bravo, Primavera oven and Put it in My Parents Back Yard. That summer, all I did was research recipes, and techniques, and make Pizza. My parents had people over all the time, and I tried to make pizza for each and every one of them. At first, Like Many Others, I searched the internet, and found sites like Pizzamaking.com very informative. I got very discouraged at first, because a lot of what I read was explained scientifically. I felt like I was back in grade school (where science was my mortal enemy). I'd read as some of these guys would break down the pizza process molecule by molecule.
Thankfully, soon after, my wife (at that time, my girlfriend) bought me "American Pie: My Search for the Perfect Pizza" by Peter Reinhart. The book really opened my eyes up to a whole new world of how people "thought" about Pizza. Not to mention, …read more
Source:: Legends of Pizza