In Search of A Pizza Dream Part 3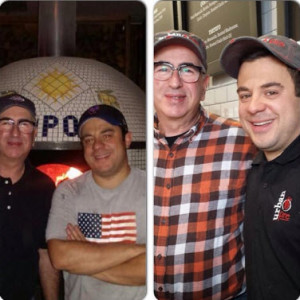 Anthony Saporito had a dream to own a pizzeria…In this the final episode, we conclude our interview with him. Listen and learn about a Legend of Pizza in progress!
Albert: What kind of Pizza do you make? What is you favorite to make.
Anthony: At my new place, "Urban Fire" we will being making Authentic Neapolitan style, using "00" flour, salt, water and yeast, That's it. We just purchased a beautiful Stefano Ferrara, wood burning oven from Naples, and really want to do things the Authentic way. I'm all about tradition, and nostalgia. but I also experimenting with new ideas as well.
Just recently, I had the honor to be invited over my cousin's house and cook with his 88 year old Mother in Law. Her name is Mrs. Kay Cammareri, and she is the Matriarch of "Cammareri Brothers Bakery" in Brooklyn. Her bakery was a focal point in the hit Movie, 'Moonstruck', and even Nicholas Cage's Character took her last name. She still lives above where the old Bakery was located in the movie. She showed me how to make, "Sfincione", a Sicilian pie made in a rectangular tray, topped off with tomato paste, onions, anchovies and Bread crumbs. The pie was phenomenal, The onions and the paste make for a very Sweet sauce. The experience I had while making it was even better. As Mrs. Cammareri was instructing me, she told different stories about different people, and places, different occasions to whom she served the dish to over the last 60 years. That makes the dish even more special. So I guess my favorite pizza to make is any one that has a great story behind it.
Paulie Gee and Anthony Saporito
Albert: Tell me about your new Pizzeria
Anthony: The name of my place is Called "Urban Fire". We are located in Madison, …read more
Source:: Legends of Pizza