Review: Nomad Roman, Philadelphia
Two years ago, I attended the South Philly Pizza Olympics. A fun bargain event (but seriously over-crowded). Most pizzamakers had boxes of their pies brought it – and of course the quality suffered. Pizza quickly got to room temperature, and it steamed itself soft inside the delivery boxes. You can see my
Roman pizza at Nomad Roman, Philadelphia. Click any pic to enlarge!

The easy winner was Nomad Pizza, because they were churning out fresh and wonderful Neapolitan pies from the wood-fired oven in their 1949 REO Speedwagon.
At the 2012 South Philly Pizza Olympics

Nomad had, at that time, three "locations" including Philly, Hopewell NJ, and that mobile truck. Not long ago (October 2013), another Philly location made its debut at 1305 Locust Street – Nomad Roman.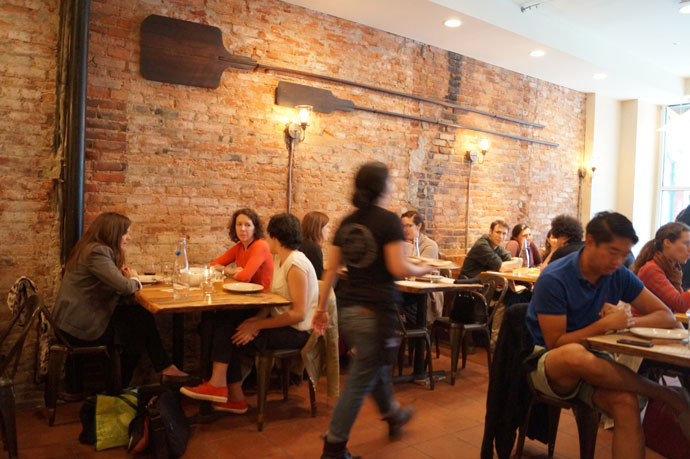 Inside Nomad Roman (from philly.thedrinknation.com)

All the other Nomad locations make Neapolitan pie – the city's best, according to Inquirer food critic Craig LaBan. Neapolitan is that smallish, puffy, charred and chewy style of pizza that is typically cooked in under two minutes at temps from 800 to 1000 degrees. Purists (not me) will insist on San Marzano tomatoes and Bufala mozzarella.

Italy's most famous city, Rome, does not enjoy the same pizza reputation as its southern neighbor, Naples. But there are at least two distinct styles of Roman pizza.
Pizza al taglio, et al, in Rome

One is pizza al taglio (pizza by the cut) which is sold as slices. Typically baked as a large rectangle, the slices are squarish, with a medium thickness to the crust. It may sometimes look like a Sicilian pizza, but it's not thick and doughy. Pizza al taglio was …read more
Source:: Pizza Quixote