Pizza Talk: John Arena and Jonathan Goldsmith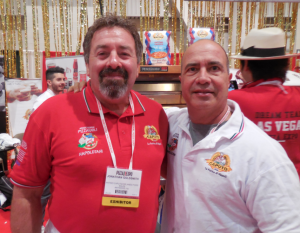 Mix together flour, salt yeast, water (and depending who you talk to: olive oil), and you can make a great pizza. Mix together two of the most passionate pizza makers in the U.S.A. and there is no telling what you are going to end up with. The end result as in both examples will be pure pizza satisfaction. With the later you will discover what fuels that passion and drive. You will also understand the spirit of pizza and the relationships that can be created as a result.
Pizza Brothers: Jonathan Goldsmith and John Arena
I was very fortunate to snag John Arena (Metro Pizza, Las Vegas) and Jonathan Goldsmith (Spacca Napoli, Chicago) at the close of Pizza Expo 2016, in Las Vegas. The conversation was fast, furious and totally from the heart. Both come from very different places in the pizza industry.
John, from New York, grew up around pizza and began making pizza at a very young age. John continues to make pizza at his pizzerias in Las Vegas. In addition, he also teaches the only certified Collegiate Level class on pizza at UNLV. John spreads the joy and love with pizza at several locations around Las Vegas. While he knows New York style pizza well, he is also able to make numerous styles of pizza. John was recently invited by Caputo Flour to go to Italy to help develop a New York Style Flour. He was accompanied by pizza luminaries Tony Gemignani, Scott Wiener, Guilio Adriani, and Michele D'Amelio. (You can see a video of this event by clicking here)
Jonathan Goldsmith, learned his craft by going to the source of pizza: Naples, Italy. Jonathan learned his craft from Master Pizzaiolo Enzo Coccia. Jonathan has studied and continues to study his craft. …read more
Source:: Legends of Pizza