Home Slice: Keeping Austin Weird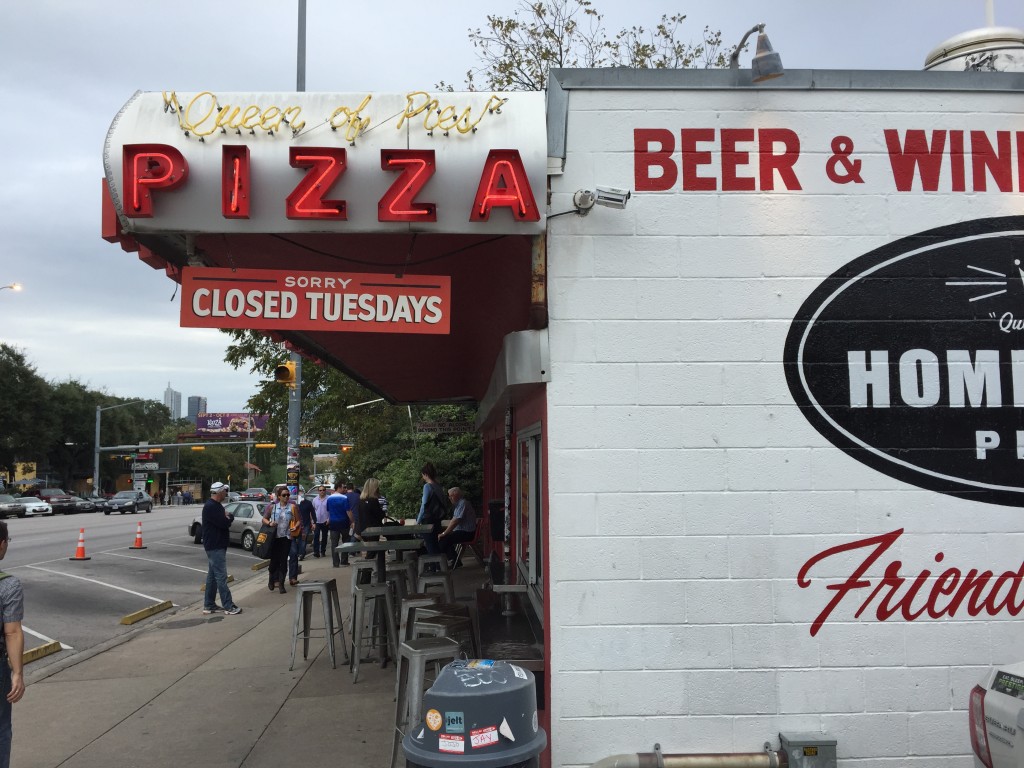 Austin has a lot of good food — scratch that — GREAT food. I've made four trips there in recent years and each has included a stop for pizza. In 2012, I went to The Backspace which is located right off 6th Street and was pretty tasty, though not groundbreaking. In 2013, I went to Via 313 – a Detroit style pizza truck — which I really love and still frequently crave. And in early 2015, I went to Bufalina which was solid, although I didn't review it. Even though I hate to sacrifice a meal of brisket for pizza in Austin, my prior experiences suggested that I wouldn't regret it this time around.
My place of choice: Home Slice (1415 South Congress Avenue). The pizza spot is located in a bustling area just south of downtown Austin filled with shops, restaurants, food trucks and markets. It's a hopping strip! And in the heart of it is a landmark pizza place which you can't miss. Its old school, retro signage stands out even during the day time. And it's not uncommon to see crowds forming out front.
If only their pizza was better…
Let me say this. Home Slice is a cool place. All other pizza places are probably envious that Home Slice is too popular to hang out with them. There is a sweet backyard which has picnic tables and ping pong tables. And inside there are a couple of rooms and a bar where diners can sit. There were families, couples, and solo patrons there on a Sunday afternoon. Even past prime lunchtime — at 3PM — the place was packed.
There was clearly a lot of thought put into the theme and design. It's suppose to …read more
Source:: I Dream of Pizza