Paulie Gee on Paulie Gee's, Pizza and the Pizza Business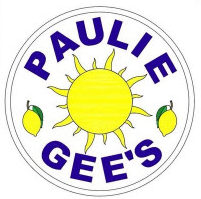 I was extremely lucky to land this interview with Paulie Gee. After stalking him for 2 days at Pizza Expo, I was excited to be able to discuss pizza, and to discover his favorite pizzerias and how he started in the pizza business.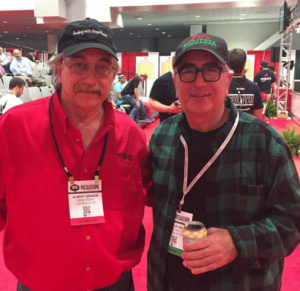 Albert Grande and Paulie Gee
The interview started badly. I called him a legend of pizza as well as a pizzaiolo. He stopped me dead in my tracks by proclaiming he was no legend, just a guy who makes pizza. And hd said there are no pizzaiolo at Paulie Gee's, just pizza guys.
After we got over that bump, the interview went well. Paulie Gee was open about how he happened to get into the pizza business. After working in the IT profession for 30 years he decided to move on and follow a dream. Although he loved to cook, he did not see himself opening a restaurant. He knew it had to be pizza. So he formulated a plan.
He started to make pizza at home and worked at perfecting his craft. He used Peter Reinhart's book: American Pie My Search for the Perfect Pizza as a model. He worked on his pizza dough recipe and kept working on it.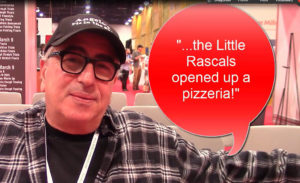 Paulie Gee explains Paulie Gee's
His goal was not to be a pizza hobbyist. Rather he knew all along he wanted to get into the pizza business. He made pizza for friends, family, and bloggers. He fed them pizza and they spread the word. He continued to make pizza and soon word got around.
His vision of Paulie Gee's was not so much to …read more
Source:: Legends of Pizza